The first step is to check the amount of curve in the neck.  It should bend up slightly and is measured half way along the neck using a notched straight edge and a feeler gauge.
The tension in the strings pulls the head up, increasing the curve.  This tension is balanced against the truss-rod which has an adjustable nut or bolt to increase or decrease the tension and thus the amount of bend in the neck.
Next I will check the height of the strings above the first fret…
This isn't exactly adjustable, but if it's too high then the slots through the nut can be cut a little deeper to reduce the height.  If the action is too low then that's more difficult to fix.  You can either fit a new nut (the white bit that the strings pass over at the top of the neck) or place a thin shim under the existing one to raise it up a little.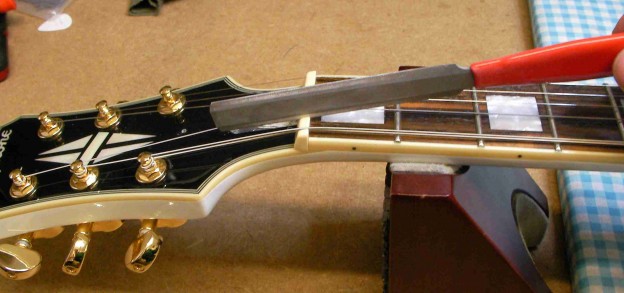 With the action at the nut now correct I will then check the action height at the other end.  It's traditionally measured at the 12th fret….
It's adjusted by raising or lowering the bridge.  This one is adjustable at each end only.
If you have a Fender, or similar, then each bridge saddle is separately adjustable so I'll also make sure the curve of the string height matches the curve of the neck…
With the string height set at both ends I will check the intonation, that's the position of the bridge up and down, along the line of the string.  If the bridge is in the wrong place although the string may be in tune at the top of the neck when you play a note further down you will find it isn't.  That's why the bridge saddles are adjustable left and right….
You could try doing it yourself but my tuner reads to 1/1000 of a semi-tone.
With the guitar playing nicely I'll check the pickup heights.  There are lots of figures quoted for factory settings but these are just starting points.  The only way to do it is to play the guitar and listen too it.  A lot of it is down to personal choice.  Raise the pickup and it becomes more sensitive and louder, but, perhaps more aggressive.  Too high and it can lead to all sorts of distortion.  Lower it down and it's more mellow and quieter.  Whatever you like it's best if the pickups are balanced, you don't want to have to adjust the volume every time you switch between pickups!
While the guitar is on the bench I'll also give it a quick health check and I'll tighten up any loose screws etc.  Lastly it will always get a quick clean and polish..