What if you need more than just a setup?  Most minor problems can be sorted out during a setup.  Here are just a few examples..
This tail was badly corroded so I took all the screws out to give them a good clean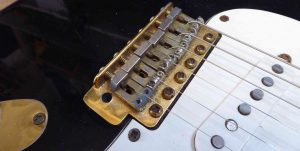 After..
Routinely during a setup the Guitar will always have a good clean and oil
Noisy electrics can be cleaned..
Pretty much anything needed to get your guitar paying nicely.  For more examples just type in Service in the search box at the top of this page.