What a beauty, I'm not sure if It's a little extreme, but it's got something.
It's not staying in tune very well mind you, but I think I an see why.
Here's why it's not staying in tune:  With the strings pulling out of the slots in the nut at such an angle, they'll be sticking.
There's only one way to sort that, a new nut.  So gently out with the old one.
Before the new one goes in, tidy up the nut slot.
There's also some glue from the original nut on the fretboard.
so I scraped that off as well.
The nut blank is a little large, so I first cut it down to roughly the right length…
and then used the grinding wheel to get it to the right thickness.  You can see the old nut at the bottom of the picture.
Next get it to the right length to fit the slot.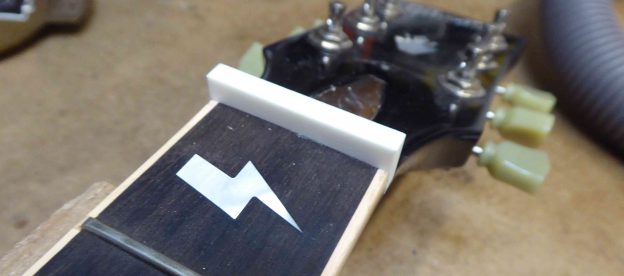 Then the curve on the top.
and a slope on the back edge.
There it is in place.  All it needs now are string slots, and a full setup.
Before doing that I gave the fretboard a clean and polished the frets.
followed by some lemon oil.
With the strings all it needs now is a standard 5 point setup.
No.1  The neck relief.  A little high…
so tighten the truss-rod
No.2  The action at the 12th fret.  While I was polishing the front of the guitar (It's always easier to do that bit without the strings) I will have disturbed the bridge height adjustment wheels so it's never going to be right.
Anyway, this one was rather low so ease the bridge up and wind the wheels up a little.
No.3  The action at the 1st fret.  This should be a little high, since I only eyeballed the slots when I cut the nut.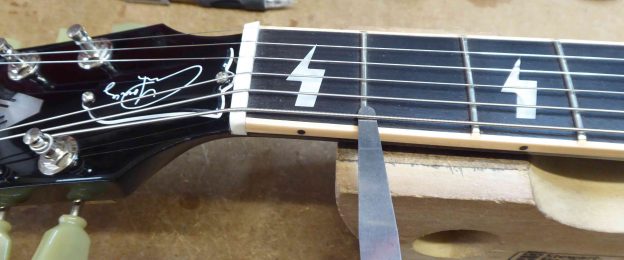 so now is the time to cut the slots to the right depth.
No.4  The Intonation.  With the playing action feeling right this puts the bridge saddles in the right place to be in tune all the way up the neck.
No.5  The pickup heights.  Making sure the outputs are about even with no distortion etc.
So there it is ready to Rock again.  
For anything else you may need, check out my website http://www.guitar-george.co.uk
A word or 2 from the owner:
"Thank you George another top job matey,  Sounds Awesome mate so pleased"