I've not come across one of these before, rather nice though.  This one just needs a service and setup and it'll be good as new.
The biggest problem it's got is rather self inflicted.  Someone took a sticker off it with a Brillo pad, or something equally as bad.  It's left some really deep scratches on the front.  That's going to take some work…
I started with some fine wet and dry, used wet…
Then some Virtuoso Cleaner and elbow greese…
While it was in pieces, I gave the electrics a once over and clean.
Likewise, before re-fitting the neck, I gave it a good clean
  and oil…
That's it back together.  All it needs now is set of strings and a setup.
The neck had a little too much relief…
so tighten up the truss-rod a little.
That dropped the action a little…
So I raised up the bridge, starting with the outside "E" strings.
followed by the others, to match the radius of the bridge to the fretboard.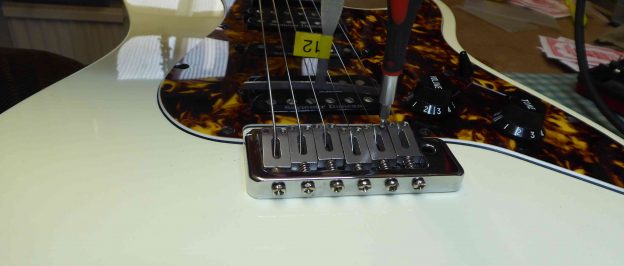 Next the action back at the 1st fret, which was fine.
Then the Intonation.  Making sure it plays in tune up and down the neck.
Lastly the pickup heights.
They were so low It must have sounded very weak to say the least.
  There it is, ready to Rock "n" Roll again.  
For anything else you might need just check out http://www.guitar-george.co.uk
A word or 2 from the owner:
"So got the guitar back home and have to say it's awesome what a turn round. Not only have you sorted the looks but the action and sound is awesome.
Cheers George you da man x))"